Throughout PLC's 35-year history, our clients, community partners, and pro bono attorneys have benefited from a long list of dedicated staff. They include our very first immigration staff attorney, Lieutenant Commander Liam Connell, JAGC, USN, who recently joined us on stage at the Volunteers for Justice Dinner to present the Attorney of the Year Award. Former PLC staffers also include folks like former Supervising Attorney Julie Marzouk, now a Clinical Professor at Chapman University Fowler School of Law, former Staff Attorney Antoinette Balta, now President of Veterans Legal Institute, and former Administrative Assistant Elizabeth Paez, about to start her third year at UC Irvine School of Law.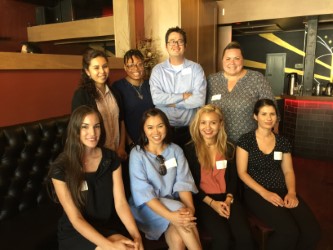 Top Row, L-R: Karina Gutierrez, Ugochi Anaebere-Nicholson, Jonathan Gibson, Jacquelyn Santos
Seated, L-R: Justine Schneeweis, Aimee Dau, Petra Mitsuko Moreno, Jamie Sanderson
Today's PLC staff is just as exceptional. We recently added some new team members to continue to deliver on our mission to provide access to justice for low-income residents of Orange County. Let's meet them:
Jacquelyn Santos, a 2013 graduate of Drake University School of Law, joined our Immigration Unit after two years in small firm practice. Jacquelyn is leading our immigration team. Three other lawyers have joined our Immigration Unit: Diana Spix, a 2015 graduate of California Western School of Law; Karina Gutierrez, a 2014 graduate of Golden Gate Law School; and Justine Schneeweis, a 2015 graduate of Loyola Law School. Earlier this year, Liliana Rosas joined the Immigration Unit as a Paralegal. And finally, the team will also add a new Administrative Assistant, Fara Rodriguez, on September 12.
Our Health Unit has added Petra Mitsuko Moreno, a 2014 graduate of Loyola Law School, and Jonathan Gibson, a 2014 graduate of Georgetown University Law Center, and a former PLC summer clerk. They're working with our Senior Lead Staff Attorney Sarah Efthymiou, who runs our Community Organizations Legal Assistance Project (COLAP) and is serving as the interim head of our Health Unit.
In the Housing Unit, we welcome Ugochi Anaebere-Nicholson as the Directing Attorney of our Housing Law Unit. Ugochi spent the last five years as a Managing Attorney at Inland Counties Legal Services. She's a 2004 graduate of Southwestern Law School. We also welcomed Jamie Sanderson as a Staff Attorney in our Housing Unit covering for Michelle Kim-Kotval while she is out on maternity leave. Jamie is no stranger to PLC, having volunteered with us while she was a student at UC Irvine School of Law.
And Bookkeeper Aimee Dau joined our Administration last month as we said farewell to 12-year PLC Veteran Glenna McKeown, who retired from the position of Finance Administrator. We wish Glenna all the best in her upcoming adventures!
Finally, several of our staff members have received promotions within the past several months. Jazmina Castillo (Health) and Roxana Rosas (Immigration) are now Project Coordinators while Yvonne Lopez (Housing) and Lilian Villegas (Consumer) are now Paralegals.
While many of the faces and some of the titles at PLC are new, the commitment to our mission of providing access to justice for Orange County low income residents remains the same. Please join me in welcoming all our new staff and congratulating our staff who received promotions!