This summer, 10 law clerks are helping PLC provide access to justice for low-income and vulnerable residents of Orange County.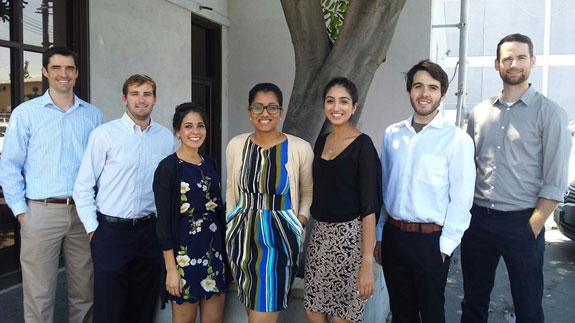 From left to right: Tom Leonard, Andrew Mason, Alex Achamallah, Honieh Udenka, Simarpreet Ahluwalia, Joseph Szilagyi, and Jack Meaney (not pictured: Allie Strittmater, Josette Ramirez, and Jorge Luis Hernandez
"Training the next generation of public interest and pro bono attorneys is a year-round affair for PLC, but our summer clerkship program allows some of the most talented law students from across the country to fully engage in the day-to-day work of our legal units," said PLC Executive Director Ken Babcock.
From helping domestic violence survivors petition for protective orders to working on affordable housing-related impact litigation, the law clerks are already creating a positive impact on the Orange County community. Allie Strittmater, a rising 2L at Georgetown University Law Center, worked on a complex unlawful detainer action.
"We represented a disabled veteran who was challenging the validity of the trust document on which the plaintiff relied to establish standing. The settlement afforded our client 60 days to vacate the residence, saved him thousands of dollars in damages, and prevented an eviction from appearing on his credit report," said Allie, who works in PLC's Affordable Housing and Homelessness Prevention Unit and the Veterans Unit.
Rising 2L Jack Meaney of UC Irvine Law School worked on a case for pro bono placement involving a monolingual Korean-speaking mother of two. "She was abandoned by her husband and saddled with a number of loans he unilaterally took out against their house," he said.
PLC's 2015 Summer Law Clerks are:
Alexandra Achamallah (rising 2L at UC Irvine School of Law) – Consumer and Veterans Units
"PLC is an organization comprised of compassionate and effective attorneys who are making a positive difference here in Orange County. I wanted to work in the Consumer Unit because consumer issues permeate the lives of nearly all low-income individuals."
Simarpreet Ahluwalia (rising 2L at UC Irvine School of Law) – Community Organizations Legal Assistance Project and Veterans Unit
"PLC provided me the opportunity to work directly with clients, to provide services to the local community, and to meet with members of the OC legal community. I'm grateful to PLC for their mentorship."
Jorge Luis Hernandez (rising 3L at Loyola Law School) – Family Law Unit
"Growing up in the underrepresented communities of Orange County, I always heard PLC as a place to go for your legal needs. I chose to spend my summer at PLC because now I feel like I'm giving back to the community that I was a part of."
Tom Leonard (rising 2L at SMU Dedman School of Law) – Veterans Unit
"I chose to work at PLC because access to justice is critically important. PLC and its staff contribute greatly to Orange County and its residents and I wanted to help advocate for those who need legal assistance but might not be able to afford it."
Andrew Mason (rising 2L at UCLA School of Law) – Affordable Housing and Veterans Units
"I chose to work at PLC this summer to make an impact in the lives of people in my community who are struggling. PLC has given me the perfect balance between responsibility and guidance during my first summer in the legal field."
Jack Meaney (rising 2L at UC Irvine School of Law) – Consumer and Veterans Units
"Public Law Center's commitment to social justice is evident in all of the work it does—as someone who aims to work in public interest law, PLC was a natural fit for me."
Josette Ramirez (rising 3L at UCLA School of Law) – Immigration Unit
"I'm very happy I chose to go with PLC because I've gotten the opportunity to work in a myriad of areas in immigration, including U and T visas, DACA and Asylum. The best part is the opportunity to take cases on first hand and to work directly with clients."
Allie Strittmater (rising 2L at Georgetown University Law Center) – Affordable Housing and Veterans Units
"PLC has an excellent reputation for effectively serving individuals who don't have the resources to access the legal system. I was also really excited about the opportunity to gain some great hands-on experience on both small-scale and impact litigation cases."
Joseph Szilagyi (rising 4L at Loyola Law School) – Health Law Unit
"The work at PLC is community driven and the PLC staff excels at providing assistance while still empathizing with the client's troubles. This was the greatest draw for me to work at PLC this summer."
Honieh Udenka (rising 2L at UC Irvine School of Law) – Family Law and Domestic Violence Unit
"I chose to work at PLC this summer because I am deeply committed to helping victims of domestic violence, and PLC does exceptional work helping victims and children leave abusive relationships and homes."