Elderly tenants in Anaheim apartment complex faced rent increase of 75 to 80 percent
Covered in the LA Times, Christianity Daily, LA 18 (in Korean), and KoreaDaily – Los Angeles (in Korean).
Earlier this month, nearly 200 elderly, extremely low-income tenants at Miracle Terrace, an apartment complex in Anaheim, California, celebrated a last-minute "miracle" that allowed them to avoid homelessness and severe economic hardship during the holiday season. After advocacy by the Public Law Center (PLC) and Asian Americans Advancing Justice – Los Angeles, the tenants received 124 vouchers (one of the largest and fastest approvals in U.S. history) from the U.S. Department of Housing and Urban Development (HUD).
PLC's Lili Vo Graham speaks with LA 18.
Miracle Terrace is a 179-unit building housing low-income senior tenants, the majority of whom are monolingual Korean speakers. For months this past year, the tenants have struggled with rents that jumped 75 to 80 percent and consumed 75 percent or more of their very limited incomes. The complex previously received a federally-subsidized mortgage through a special HUD program (section 236) that enabled tenants to pay an affordable rent based on their needs and income. On November 1, 2013, the mortgage matured. After the mortgage matured, the building was bought by a private investor, and over the course of eight months, there was a 75 to 80 percent rent increase.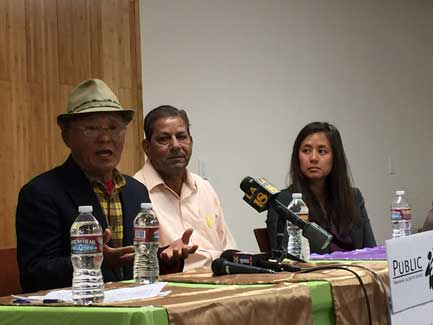 Pictured: Yong Woom Wang speaking at the press conference (PLC photo).
[distance2]
Mr. Yong Woom Wang, a 74 year-old tenant who had lived at Miracle Terrace for eight years said, "The rent increases were devastating to me. I could not afford necessary medicine for my chronic diseases, I had to cut back on my food intake because I could not afford my normal groceries, and I could not see my friends or family because I did not have money for transportation. I felt very depressed since the rent increases went into effect."
The elderly, low-income tenants could not afford the rent increases, which in some cases amounted to 75 percent or more of their limited incomes, leaving them with only a few hundred dollars to pay for the rest of their basic necessities. Many tenants were forced to live on just $15 to $50 for food each month and cut back on necessary medications. After being contacted by tenants from Miracle Terrace, PLC's Affordable Housing and Homelessness Prevention Lead Attorney, Lili Vo Graham closely worked with the tenants, the owners, the property managers, and other organizations to come up with a solution for these vulnerable tenants.
PLC eventually determined the only potential source of rental assistance available to these extremely vulnerable seniors was through a little known HUD program called Tenant-Protection Vouchers for Certain At-Risk Households in Low-Vacancy Areas ("low-vacancy rate vouchers"). Low-vacancy rate vouchers are designed to provide assistance to low-income tenants living in buildings financed by a federally-subsidized mortgage that has matured, thus leaving tenants vulnerable to severe rent hikes, which was the case at Miracle Terrace. These vouchers, like all Section 8 vouchers, are very limited and in high demand. Moreover, only an owner is eligible to request this particular form of assistance, making it particularly difficult for impacted tenants to successfully access low-vacancy rate vouchers.
After PLC reached out to the owner and requested that he apply for the low-vacancy rate vouchers, the application was submitted on July 15, 2014. Through persistent advocacy by tenant advocates and the office of Congresswoman Loretta Sanchez (CA-46), the vouchers were processed in 4.5 months — record time considering the process usually takes a year or more.
"We are grateful to everyone who helped make this voucher happen because housing protections like this one at Miracle Terrace can protect some of our most vulnerable community members," said Graham. "As more and more affordable housing complex mortgages financed under this program mature, through Section 236 of the National Housing Act, low-income families across the country will face similar challenges to staying in their homes. We hope this case will encourage other similarly situated low-income tenants to advocate with HUD for these vouchers earlier in the process, because there are more protections for tenants before the Section 236 program expires for an affected building."