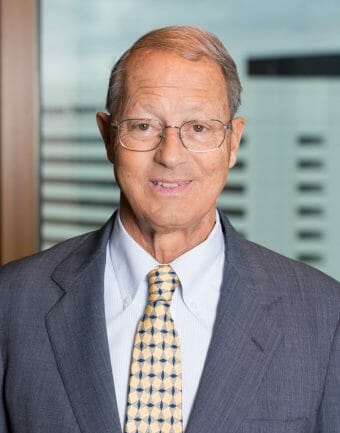 Remembering John Hurlbut
(June 14, 1939 – June 15, 2021)
Yesterday morning John B. Hurlbut, Jr. of Rutan & Tucker passed away after a long and courageous battle with cancer.
John began his career with Rutan in 1964 after graduating as a MVP student athlete at Stanford and later from Stanford Law School. He finished his career at Rutan, the only firm he ever called home, as a highly respected and sought after business and real estate litigator.
John is the only Orange County attorney to have been awarded The Harmon G. Scoville Award (2003), the Marcus Kaufman Jurisprudence Award (2010), the Franklin G. West Award (2012), and Public Law Center's Attorney of the Year Award (2007). The John B. Hurlbut, Jr. Award is given to Rutan lawyers who exemplify his and the firm's core values of excellence, integrity and teamwork.
I met with John in 2004 and he pledged to me that he would always have a PLC case open on his desk, a commitment unparalleled for someone at that stage of their career. And it's a commitment which he kept, much to the benefit of our clients and our staff who had the privilege of working with him.
He will be sorely missed. Our deepest condolences go to John's family, including Susie, Norm, Vicky, and John's grandchildren, and his colleagues at Rutan.
Ken